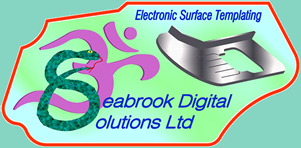 Seabrook Digital Solutions will also consider helping other companies who are thinking of moving to Digital Templating as opposed to Physical Templating. With vast experience in all areas of the worksurface industry we can offer help with everything from advice on adapting manufacturing techniques to full consultation training if using the proliner.
---
We have carved a market for ourselves in the form of a professional "Out House" design and template service and feel it appropriate to give as much help in this context to not only our contractors, but even companies who will only use our services if their own diary becomes very overstretched. Details of consultation fees can be obtained on request.
---
There is always some free advice that comes with experience in any profession, and one thing for any company to think about if moving to digital templating, is being aware that when for instance a company selling a digital templating tool states that its simple to create a digital template and immediately send the drawing from site to a cnc machine to cut out, that they are not entirely being honest!!. There is always some preparation work to do after measuring. There are also some seemingly fancy add ons that some companies will offer with their tool such as a pda and software to manipulate the drawing after its been measured for so called simple finishing and email solutions. Believe me its not worth it!. Experience in the field is something that there is no substitute for, and we as a company can, as stated above help in all areas concerned with Electronic Templating.