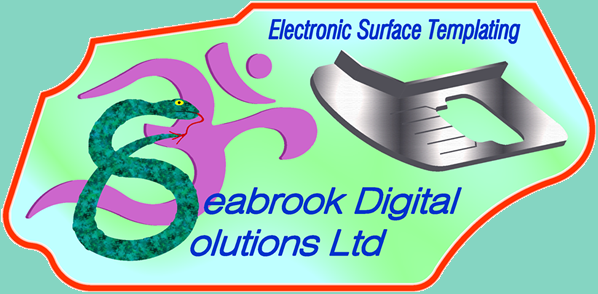 Over 25 Years
Experience Templating
Worksurfaces
Electronic, digital templates created for the work-surface industry.
Complete setting out service offered, from digital templates to full production drawings, and if required for solid surface, component drawings including relevant MDF substrata nested on boards in readiness with relevant tool paths in cad form for CNC programming, full cutting list generated and detailed instructions for site fixer. Basic electronic templating is offered for any work-surface including granite, marble, stone, solid woods, glass, s/s etc....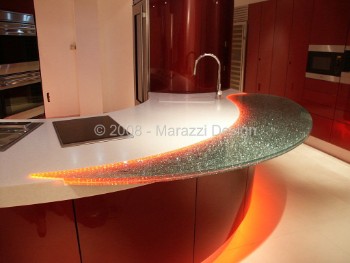 Absolutely No Mess
Traditional templating methods that are accurate require the cutting of a physical template during the site visit which causes in most cases quite a lot of dust and requires that all wall supports, if any have already been fitted so that the hardboard or mdf being used is allowed to stay flat. There is of course vinyl or corex material that can be used and these tend to make hardly any mess at all. Both are however less accurate than mdf or hardboard. If a U shaped kitchen for instance is templated using vinyl or corex, it will be cut and layed out on the base units, then folded away and taken back to the factory. The problem here is that when it is layed out again for manufacture of tops, there is no guarantee that it will be laying exactly the same as on site. Hardboard and mdf have there own problems as well. Although the various pieces that make up the template can be screwed together and taken apart for transportation, and that when they are put together again for manufacture the accuracy of the shape and angles will be very good, there is a fundamental problem with both these materials. This problem may not occur every time but most definitely sometimes. Both materials will grow or shrink in certain conditions, this is when they are either damp or very dry. Physical templates do mean there is a physical check after the job is made before going out on site, but at that time are the templates exactly the same size as they were at the time they were cut on site???. Physical templates also bring an easy way to portray worktop detail and information as this can be written in marker pen, finished edges can be marked, sink positions gable positions, hob cut outs etc.
Electronic templates are 100% accurate if done correctly, all the information can be written into a production drawing which will be an image of the exact shape of the worksurface to be manufactured. Also multi layers can be created from measuring base units, including all divisions, and of cause measuring the wall and its exact shape. It becomes then very easy to locate any cut out position once the template has been taken. The reader may take time to look at the Services and Gallery section of this site to see the technical data that goes with each kitchen.
Design Overlay Drawing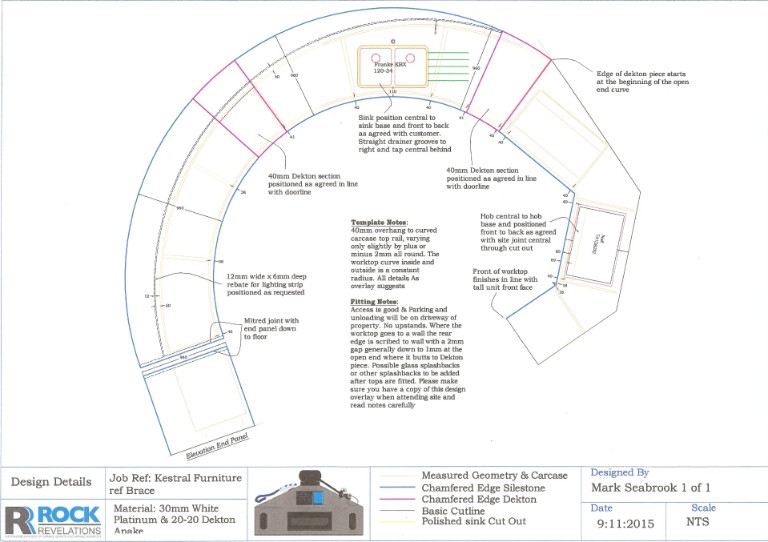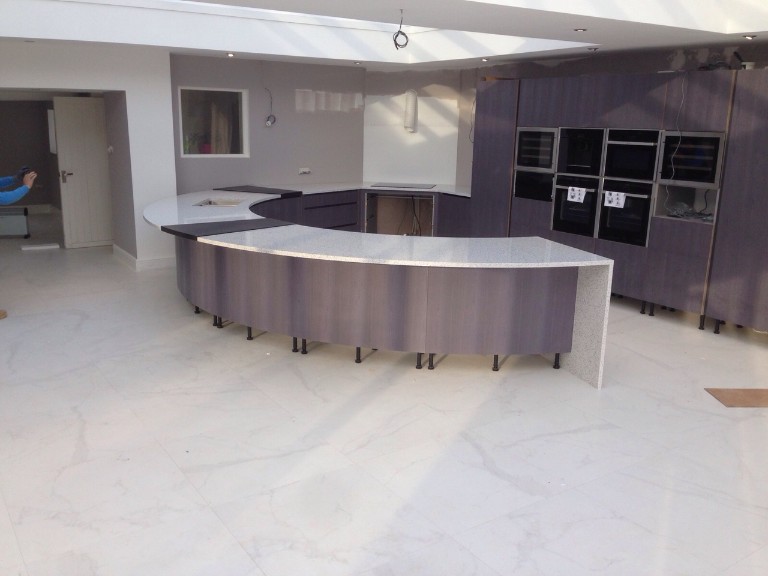 As new methods of templating appear, so should the gathering of all information relevant to the templating process. As well as a cad file with all worktop geometries, there will be a pdf twin layout drawing. This includes 2 A4 layouts, one showing the outline of the worktops in situ with basic information and one showing the outline relative to all measured geometries on site including base cabinets, walls and any other necessay lines. On this design and details drawing will be shown in text, visual and any dimensions relevant to templating, all the final information gathered on site, and has a sign off area for details and design only. This ensures that there are no missunderstandings, and your retailer or end user can study it to see and know exactly what they are getting in every little detail. If after seeing this they want to make any changes, these changes can be effected at this stage before it is too late. Once these drawings have been approved, you and the customer can be assured that what goes to site is going to be correct in all details.
Experience Counts



We are a professional service which gives a warm confident impression to your customers which is very important as we will in most cases be the first people representing your company on site. In any business first impressions last and we are very experienced in creating that good impression and giving customers all the help and advice they may need. This service will be especially useful to private clients who can have a digital template made for their surface together with a basic drawing tailored to send to various suppliers and manufacturers for production quotations, therefore having more control over their project.
This is a service that is useful if not imperative to companies with CNC capacity. Although costs for this service are greater generally than traditional templating with hardboard or vinyl, the savings on production in most cases will be 50%, and in some cases up to 70%. Those companies that have the ability to scan their physical templates in house and are able to cnc their tops can still financially benefit from this service by having a professional body on stand-by if their diary becomes overloaded, Also templating and setting out costs will always be less when there are no physical templates.
We use cutting edge technology for templating, with the Prodim Proliner to collect all digital information before creating worksurfaces. Using this method is especially efficient for complex curved surface measures, therefore producing a smoother and better machined finish on the CNC.
Costs will vary according to type of surface, based in most cases on kitchens being average or large, and whether a basic outline of top together with basic production drawing is required, or full service for solid surface tops including detailed production drawing, all tops nested on relevant material, all subframes if any nested on relevant material, cutting list of materials, components drawing for machine shop and all tool paths integrated within the cad drawing.