We offer Digital Templating for any 2D surface whether it be horizontal or vertical, so backsplashes of all descriptions can be electronically mapped out to be cut to size and shape on a cnc machine. No area is too big, the Proliner has a range of 5 metres, and if it can't reach or there are any corners to go round, a separate measurement can be taken and drawings joined together using reference points. To see how the proliner works visit www.prodim.nl. There are a variety of digital templating methods available on the market today, as this way of measuring for things such as kitchen worksurfaces is becoming ever more popular. We use the Proliner because if used correctly and serviced at its designated intervals is always accurate, and takes less time on site than traditional methods of templating.
---
We can measure vertically with our equipment like this project below to get exact maps for the wall units to set out for solid surface doors and end panels. This project was for Distinctive Design and fabricated by Clarendon Fabrications. All worksurfaces, doors, draws, end panels and plinths were created in Corian.
| | | | | | | |
| --- | --- | --- | --- | --- | --- | --- |
| | | | | | | |
| Plinth width can be obtained continually so it can actually be scribed in the factory ready to slot into place on site!!. | | The Proliner in action | | Parameters around shelves and integrated appliances can be mapped out | | A total overall elevation can be obtained to set out for solid surface draws and doors |
---
| | | | | | | |
| --- | --- | --- | --- | --- | --- | --- |
| | | | | | | |
| Distinctive Design 1 | | Distinctive Design 2 | | Distinctive Design 3 | | Distinctive Design 4 |
Electronic templating is especially efficient for measuring curves and arcs. In the case below all the curved base units together with internal divisions were mapped out and then the shape of the top was created to exactly the right geometry to give perfect custom overhangs to the curved doors, and the canopy was produced using offsets from these curves in a way which would have been tedious and lengthy using physical templating means. The other project needed a glass breakfast bar area creating and we did this after measuring and creating the top itself. A digital template of the glass was then emailed to the manufacturers for cutting. Both projects were for a well known company called Living In Style, who are always creating something special for the kitchen. The project on the left was fabricated by Clarendon Fabrications Ltd, who are well known in the solid surface industry for attention to the quality of their projects, and the one on the right by Whitehall Fabrications, who specialise in many types of work surfaces.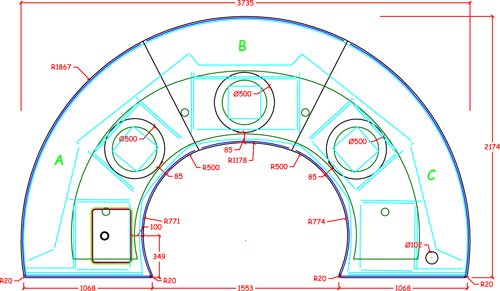 Cad Drawing All Layers
This cad drawing is of the project below left and shows how different rads have been created on the inside of the curve to allow that correct overhang. This has to be done after measuring in a suitable cad programme. The interesting thing to note is the canopy extractors and that they can be mapped out when measuring for the worktop. In this case the inside of the extractors are a square frame, and these 3 frames were mapped out and appear as squares inside the circular hob cut outs. The beauty here is that the hob cut outs can be mapped out directly under the extractor hoods with extreme accuracy without having to get levels and tape measures out!!. The project below right can be seen to have a glass breakfast bar area recessed into the surface. The shape of the glass becomes a lot more easy to create when the worksurface has been templated digitally. Proportions can so much more easily be seen and the shape of the glass can be built in the cad programme in position, changed with ease as many times as it takes to look right!

---
We can build professional production drawings with each project to make clear all details and specify in text and diagram form everything that all departments will need to know. separate drawings can also be provided to show base unit layer and text information to indicate appliance positions. There will be details on main production drawings of overhangs, keys showing vital information and the drawing will be presented in a way for the customer to observe and sign off to say they are happy with the worktop design and details. Each project will always show base unit details within the model space of the cad drawing and of course photo's of the area will also be provided.
---
Please Note that for the rest of our gallery each project will have a production drawing or layers drawing which was created in cad form using the digital template associated with that particular project, or there will be an enlarged image. This can be viewed by left clicking on the appropriate image. Please click on the continue button at the bottom of each page to view our complete gallery.
| | | |
| --- | --- | --- |
| | | |
| Ready Steady Cook Red Kitchen | | Ready Steady Cook Green Kitchen |
| | | |
| --- | --- | --- |
| | | |
| Producing Ready Steady Cook 1 | | Producing Ready Steady Cook 2 |
| | | | | | | |
| --- | --- | --- | --- | --- | --- | --- |
| | | | | | | |
| Living In Style Island & Canopy 1 | | Living In Style Island & Canopy 2 | | Living In Style Marsdon 1 | | Living In Style Marsdon 2 |